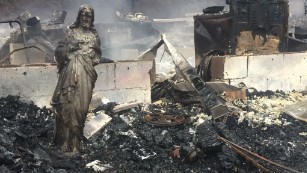 A statue of Jesus was the only thing left standing after the wildfires swept through this house in Sevier County, Tennessee.
The pictures coming out of the Gatlinburg, Tennessee, wildfires are just devastating. Acres of woodland blackened. Row upon row of homes and businesses reduced to ashes.
On Wednesday, reporter Kelsey Leyrer and her team captured footage of what they saw at a house out in Sevier County. It was a statue of Jesus -- covered with soot and ashes, but still standing. It was the only thing left after the home burned to the ground.
At least seven people have lost their lives in the wildfires that have ravaged Sevier County and Gatlinburg this week