Above, Rex Tillerson, "T Rex" is pictured with Putin;
"The Donald" is sending a clear message to Putin and Russia with his Secretary of State "T Rex" selection that the U.S. wants peace with Russia. Trump is also splitting the Russia/China axis by drawing closer to Russia while distancing the U.S. from China. It is the exact opposite of what Nixon and Kissinger did with China in the U.S. China rapprochment in the early 70s when Nixon split the Russia China axis. Your Watchman thinks it is a brilliant move.
Trump is also acknowledging that Russia is an energy super power with oil and natural gas and the U.S. needs Russia to supply a constant, dependable supply of energy to Europe. Hence, there is no future for the Russian sanctions, heart of the globalist neocon move against Russia. Trump is acknowledging that China is not an energy super power.
Your Watchman also believes Trump cut a deal with the globalist neocons by allowing Bolton to run the day to day affairs of the Dept. of State. Now we see why Trump met frequently with the globalist neocons Kissinger and Romney. The jury will be out on this decision and I pray that Trump doesn't regret this decision. However, it is not as bad as the Reagan deal with the globalists and neocons that made Bush 1 vice president and almost cost Reagan his life in a Bush inspired assassination attempt. Below is the news about "T Rex".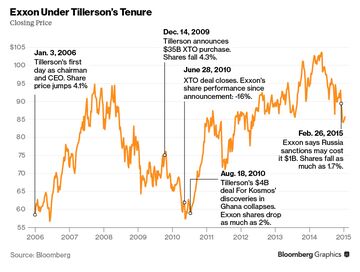 Donald Trump is expected to nominate

ExxonMobil CEO Rex Tillerson

as his secretary of state, two sources close to the transition process said.
The 64-year-old veteran oil executive has no government or diplomatic experience, although he has ties to Russian President Vladimir Putin. The pick would put to rest weeks-long speculation of who would earn the post as the U.S.'s top diplomat, and would place Tillerson fourth in line to the presidency.
He will also be paired with former U.N. Ambassador John Bolton as his deputy secretary of state, one of the sources added, with Bolton handling day-to-day management of the department
.
The sources cautioned that nothing is final until the president-elect officially announces it, which could happen as early as next week.
Above, Tillerson negotiates with Putin; Tillerson who was once dubbed

"T.Rex"

by Sarah Palin, met Saturday with Trump at Trump Tower in New York City, the president-elect's spokesperson confirmed.
In a pre-taped interview set to air Sunday on Fox News, Trump discussed

why a businessman such as Tillerson would be a good fit as America's chief diplomat.
"Well, in his case, he's much more than a business executive, I mean he's a world-class player," Trump said, acknowledging Tillerson's relationship with Russia through his business dealings.
"To me, a great advantage is he knows many of the players, and he knows them well," Trump added. "He does massive deals in Russia. He does massive deals for the company — not for himself, for the company."
Trump spokesman Jason Miller said no official announcement on the secretary of state pick is expected until "next week at the earliest.
Tillerson, of Wichita Falls, Texas, has already notified his corporate board about taking on the new role. He is set to retire from ExxonMobil next year since the company has a mandatory retirement age of 65.
He has never previously worked in government, but holds conservative political views.
Tillerson has made tens of thousands of dollars worth of political donations over the past two decades to Republican groups and candidates, including to President George W. Bush and former Florida Gov. Jeb Bush, according to the Center for Responsive Politics, a nonpartisan research group.
Tillerson backed Jeb Bush during the GOP presidential primary and did not donate to Trump's campaign.
Little is known about where he stands on foreign policy, and as secretary of state, he would have to hit the ground running on major issues. Among them: handling the nuclear agreement with Iran that the Obama administration made in 2015;

the sanctions imposed on Russia;

disputes with China and North Korea; the ongoing humanitarian crisis in Syria; and rebuilding Afghanistan and Iraq
While he has spent his entire career in the energy sector,

Tillerson does have experience dealing with foreign governments since ExxonMobil operates in more than 50 countries.
He already has links to Putin as well, after representing the company's interests in Russia during the Boris Yeltsin administration.
In 2013, the Kremlin bestowed the country's Order of Friendship honor on Tillerson.
At an ExxonMobil shareholders' meeting in May 2014, Tillerson touched on his disapproval of sanctions.
"We do not support sanctions, generally, because we don't find them to be effective unless they are very well implemented comprehensively and that's a very hard thing to do," he said, adding, "We always encourage the people who are making those decisions to consider the very broad collateral damage of who are they really harming with sanctions."
One of ExxonMobil's and Russia's biggest deals fell victim to the sanctions imposed by the Obama administration in reaction to Russia invading Crimea in 2014. That deal to drill in the offshore Arctic Kara Sea oil field would have reportedly been worth $500 billion.
Globalist establishment Republicans have championed Tillerson.
Sen. John McCain,
R-Ariz., said he has concerns over Tillerson's ties with Russia and that it would be the subject of any Senate confirmation hearing.
In her book, "Going Rogue: An American Life," Palin went after him for how ExxonMobil handled the media attention and dialogue between the Alaskan government and the company over a proposed oil pipeline in her state.
"We knew we were headed in the right direction when the threats from some oil industry players began — everything from nasty emails to multimillion-dollar ad campaigns. Though none of the Big Three oil companies wanted to move away from their relationships with the previous administration, ExxonMobil seemed particularly hostile," the former Alaska governor wrote.
Tillerson's role and financial stake in ExxonMobil — the fifth-largest publicly traded company in the world with a $369 billion market cap — could open up cases of conflict of interest. His ExxonMobil shares are reportedly worth about $151 million.
Bolton, 68, had been floated as a possible secretary of state candidate as well. He was U.S. ambassador to the United Nations from August 2005 to December 2006

under George W. Bush.

Your Watchman considers Bolton a neocon globalist.
While he is a self-described advocate of the Ronald Reagan foreign policy idea of "peace through strength," his hawkish stances have not been without controversy, and

he was a vocal proponent of the war in Iraq.
"We are confident that Saddam Hussein has hidden weapons of mass destruction and production facilities in Iraq," Bolton had said in 2002 while serving as George W. Bush's undersecretary of state for Arms Control and International Security.
Bolton continued to defend his position even after it was discovered that Iraq harbored no weapons of mass destruction.