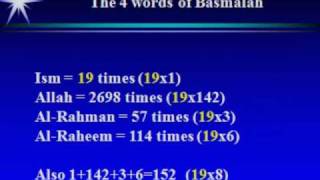 When I worked in counter-terrorism I knew the Islamic terrorists had a penchant for dates but I could never "crack their code" nor predict with accuracy when they would strike again.
I knew the significance of September 11th because
On September 11th, 1683, an alliance of Christian armies led by Jan III Sobieski, the King of Poland, arrived at the Gates of Vienna and defeated the Muslims.
The attack on 9-11-2001 was for a lack of a better term a re-enactment of that historical attack. Notice that 9+11=19.
I was also aware of the curious numbers involved in the 7-7-2005 (7+7+7) attack in London, England.
In the exclusive special report, Infowars Reporter Millie Weaver interviews renowned codebreaker and former Intelligence Advisor

Louis Buff Parry

on code '19', its Islamic history, and how Islamic terrorists have used it as part of a cipher for planning terrorist attacks. Parry discusses how number 19 is central to Islam and other world religions as a mystical number and the peril that surrounds exposing this 'sacred' secret. From 9/11 to the underwear bomber, Parry takes us on a journey through what some have called the most dangerous code: Code 19. The last two videos also relate to the number 19 in Islam.
https://www.youtube.com/watch?v=yf8msdnNc-M
https://www.youtube.com/watch?v=xFT8K82BXYI
https://www.youtube.com/watch?v=UmNgibcL3N0