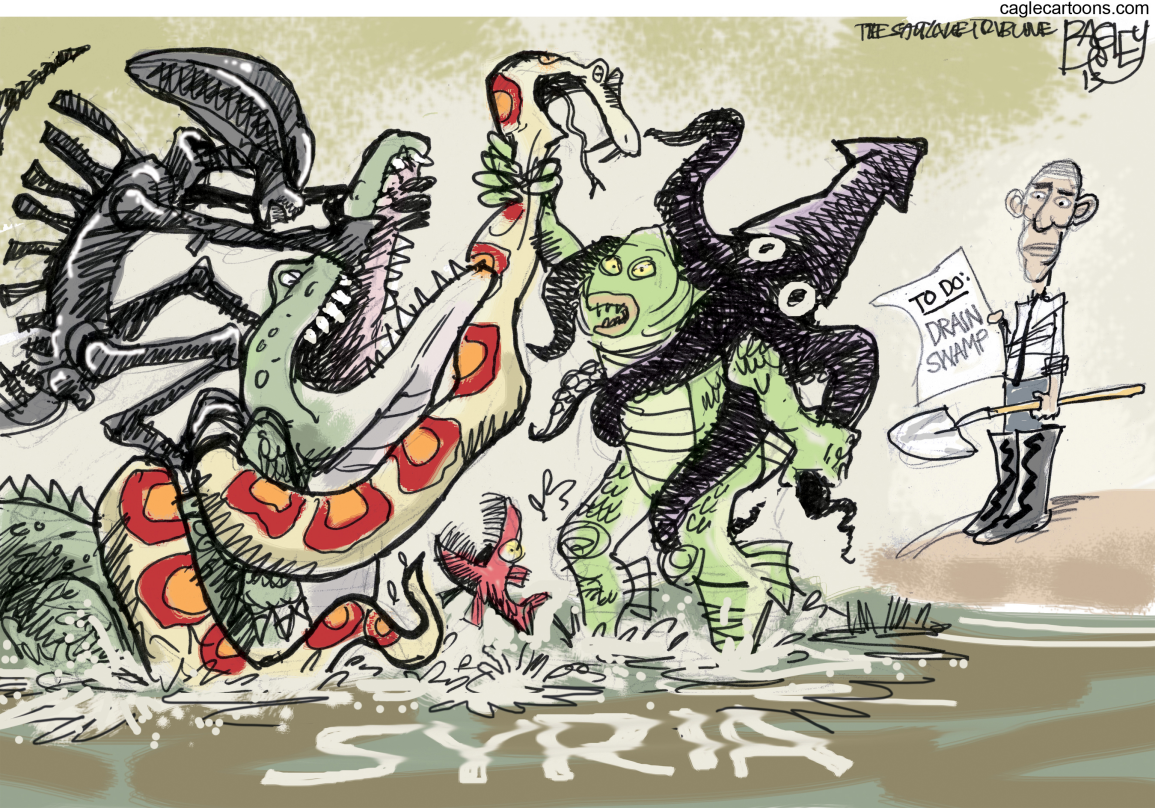 Above, Pepe fights the Syrian swamp monsters!
We are getting ever deeper into the six-year sectarian and civil war in Syria. Your Watchman calls it "The Vietnam Creep" (no pun on Nixon's re-election committee) And what we may be witnessing now are the opening shots of its next phase — the battle for control of the territory and population liberated by the fall of Raqqa and the death of the ISIS "caliphate."
The army of President Bashar Assad seeks to recapture as much lost territory as possible National Secuity advisor General McMaster has called for putting 100,000 troops on the ground in Syria. Is he an insane neocon? Thank God Trump has reportedly said NO to large numbers of troops in Syria. Additionally, after 17 years of war in Afghanistan, Iraq, Libya etc. our military equipment and active duty military are worn out. Some of our military equipment is so broken down we just left it in Iraq or Afghanistan. Also we would be going up against battle hardened Syrians, Iranians, Hezbollah etc. in Syria. If we couldn't win in Iraq or Afghanistan how in the hell are we going to win a protracted war in Syria?
The video below examines the current state of U.S. military equipment, American weaknesses and compares it to Russia and China.
Is this where we are headed? Is this where we want to go?
Congress has never authorized such a war, and there seems to be no vital U.S. interest involved in who controls Raqqa and neighboring lands, as long as ISIS is expelled. During the campaign, Trump even spoke of U.S.-Russian cooperation to kill ISIS.
While in Saudi Arabia, however, Trump seemed to sign on to what is being hyped as an "Arab NATO," where the U.S. accepts terroristic Riyadh as the principal ally and leader of the Gulf Arabs in the regional struggle for hegemony with Shiite Iran.
Following that Trump trip, the Saudis, backed by Egypt, the UAE and Bahrain, sealed their border with Qatar, which maintains ties to Iran. And though Qatar is also host to the largest U.S. air base in the region, al-Udeid, Trump gave the impression its isolation was his idea.
Isaiah 17
1599 Geneva Bible (GNV)
17
1 A prophecy of the destruction of Damascus and Ephraim, 7 calamity moveth to repentance.
1

The [a]burden of [b]Damascus. Behold, Damascus is taken away from being a city, for it shall be a ruinous heap.
2

The cities of [c]Aroer shall be forsaken: they shall be for the flocks: for they shall lie there, and none shall make them afraid.
3

The munition also shall cease from [d]Ephraim, and the kingdom from Damascus, and the remnant of Aram shall be as the [e]glory of the children of Israel, saith the Lord of hosts.
4

And in that day the glory of [f]Jacob shall be made clean.
Below, large swathes of Syria are decimated by war.
If, after the fall of ISIS in Raqqa, we are going to use U.S. power and leverage to solidify the position of Syrian terrorists and Kurds, at the expense of Damascus, we could find ourselves in a collision with Syria, Russia, Hezbollah, Iran and even Turkey.
For Turkish President Erdogan looks on our Kurdish allies in Syria as Kurdish allies of the terrorist PKK inside his own country.
During the campaign, candidate Trump won support by pledging to work with Russia to defeat our common enemy. But if, after ISIS is gone from Syria, we decide it is in our interests to confront Assad, we are going to find ourselves in a regional confrontation.
In Iraq, the U.S. and Iran have a common foe, ISIS, and a common ally, the government in Baghdad. In Syria, we have a common foe, ISIS. But our allies are opposed by Assad, Russia, Iran, and Hezbollah.
The question before us: After Raqqa and Mosul fall and the caliphate disappears, who inherits the ISIS estate?
The U.S. needs now to delineate the lines of advance for Syria's Kurds, and to talk to the Russians, Syrians and Iranians.
We cannot allow our friends in the Middle East and Persian Gulf to play our hand for us, for it is all too often in their interests to have us come fight their wars, which are not necessarily our wars. It is put up or shut up time in Syria friends!