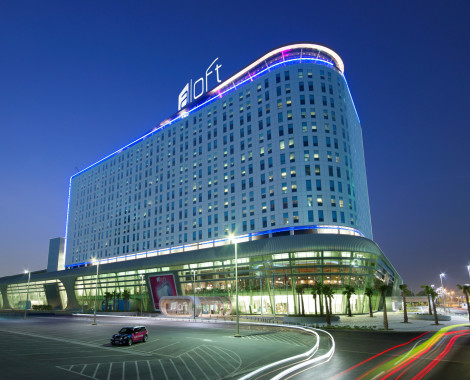 Above, Hotel Aloft in Abu Dhabi.
There seems to be a huge conceptual gap between Trump and his most implacable critics on the left. Many highly educated, snobbish, upper-middle-class Democrats regard themselves as exemplars of "compassion" (which they have elevated into a supreme political principle) and yet they routinely assail Trump voters as ignorant, callous hate-mongers. These elite Democrats occupy an amorphous realm of subjective emotion, theoretical abstractions, and refined language.
But who is Trump? Trump is by trade a builder who deals in the tangible, objective world of physical materials, geometry, and construction projects, where communication often reverts to the brusque, coarse, high-impact level of modern working-class life of getting the stressful job done under budget.
Last week, that conceptual gap was on prominent display, as the media, consumed with their preposterous Russian fantasies and mirages, were fixated on former FBI director James Comey's so-called testimony before the Senate Intelligence Committee. In my opinion, Comey is an effete charlatan crook who should have been fired within 48 hours of either Hillary or Trump taking office.
Meanwhile, Trump was going about his business of building. The following morning, he made remarks at the Department of Transportation about "regulatory relief." He spoke about mundane iron, aluminum, and steel and he cut like a concrete saw through the airwaves. I later found the

entire text

on the White House website. Below, are some key passages that are well worth reading because they reveal the real Donald J. Trump:
We are here today to focus on solving one of the biggest obstacles to creating this new and desperately needed infrastructure, and that is the painfully slow, costly, and time-consuming process of getting permits and approvals to build. And I also knew that from the private sector. It is a long, slow, unnecessarily burdensome process. My administration is committed to ending these terrible delays once and for all. The excruciating wait time for permitting has inflicted enormous financial pain to cities and states all throughout our nation and has blocked many important projects from ever getting off the ground…

For too long, America has poured trillions and trillions of dollars into rebuilding foreign countries while allowing our own country—the country that we love—and its infrastructure to fall into a state of total disrepair. We have structurally deficient bridges, clogged roads, crumbling dams and locks. Our rivers are in trouble. Our railways are aging. And chronic traffic that slows commerce and diminishes our citizens' quality of life. Other than that, we're doing very well. Instead of rebuilding our country, Washington has spent decades building a dense thicket of rules, regulations and red tape. It took only four years to build the Golden Gate Bridge and five years to build the Hoover Dam and less than one year to build the Empire State Building. People don't believe that. It took less than one year. But today, it can take 10 years and far more than that just to get the approvals and permits needed to build a major infrastructure project.

These charts beside me are actually a simplified version of our highway permitting process. It includes 16 different approvals involving 10 different federal agencies being governed by 26 different statutes. As one example—and this happened just 30 minutes ago—I was sitting with a great group of people responsible for their state's economic development and roadways. All of you are in the room now. And one gentleman from Maryland was talking about an 18-mile road. And he brought with him some of the approvals that they've gotten and paid for. They spent $29 million for an environmental report, weighing 70 pounds and costing $24,000 per page…



I was not elected to continue a failed system. I was elected to change it. All of us in government service were elected to solve the problems that have plagued our nation. We are here to think big, to act boldly, and to rise above the petty partisan squabbling of Washington D.C. We are here to take action. It's time to start building in our country, with American workers and with American iron and aluminum and steel. It's time to put up soaring new infrastructure that inspires pride in our people and our towns.



No longer can we allow these rules and regulations to tie down our economy, chain up our prosperity, and sap our great American spirit. That is why we will lift these restrictions and unleash the full potential of the United States of America. We will get rid of the redundancy and duplication that wastes your time and your money. Our goal is to give you one point of contact to deliver one decision—yes or no—for the entire federal government, and to deliver that decision quickly, whether it's a road, whether it's a highway, a bridge, a dam.

To do this, we are setting up a new council to help project managers navigate the bureaucratic maze. This council will also improve transparency by

creating a new online dashboard allowing everyone to easily track major projects through every stage of the approval process. This council will make sure that every federal agency that is consistently delaying projects by missing deadlines will face tough, new penalties…



Together, we will build projects to inspire our youth, employ our workers, and create true prosperity for our people. We will pour new concrete, lay new brick, and watch new sparks light our factories as we forge metal from the furnaces of our Rust Belt and our beloved heartland—which has been forgotten. It's not forgotten anymore.

We will put new American steel into the spine of our country. American workers will construct gleaming new lanes of commerce across our landscape. They will build these monuments from coast to coast, and from city to city. And with these new roads, bridges, airports and seaports, we will embark on a wonderful new journey into a bright and glorious future. We will build again. We will grow again. We will thrive again. And we will make America great again.
Below, a photo of modern Hiroshima, Japan, contrast that with Detroit, Michigan.
Of course this rousing can-do speech got scant coverage in the "lame stream media or with the presstitutes. Middle-class and upper class elite journalists can't be bothered to notice the complex physical constructions that make modern civilization possible. The laborers who build and maintain these marvels are recognized only if they can be shoehorned into victim status. But if they dare to think for themselves and vote differently from their liberal Democratic overlords and plantation masters, they are branded as rubes and pariahs.
Below, Kuala Lumpur, Malaysia.
By the way, when President Trump spoke recently in Cincinnati, Ohio at Rivertowne Marina to business and union leaders and he said essentially the same thing that he said above.
President Trump recognizes that the business of America is business and Democrats have lost that focus and vision. The Democratic Party use to be the friend of the working man. They no longer ask what Jimmy Hoffa asked. Are you a friend of labor? President Trump is a friend of labor because he wants to put idle builders back to work.
Below, a photo of modern Tel Aviv, Israel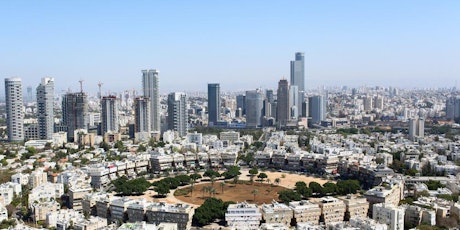 So, President Trump, you "keep truckin on brother and put the pedal to the metal" and build, build, build!!!!!!!
Me and my "Make America Great Again" friends are sick of grid lock, potholes and crumbling roads in the U.S. We are sick of our crumbling inner cities and jealous of the glimmering buildings and economic dynamism in Qatar, Abu Dhabi, Israel, Hiroshima, Malaysia, Dubai, etc.
If Democrats have any hope of making the Democratic Party Great Again and retaking the White House, they must get off their high horse, lose the rabid, lunatic rhetoric, cast off the lunatic fringe and re-orient themselves toward practical reality and the free country they are damned lucky to live in.