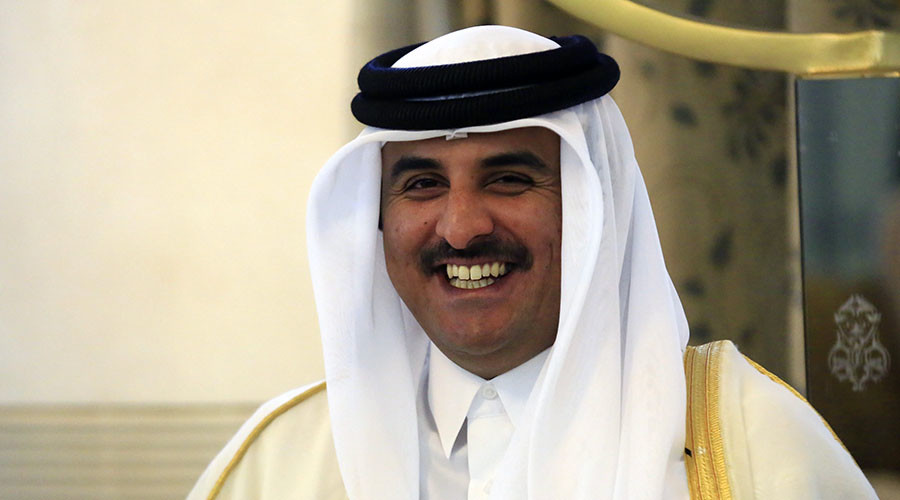 Above, Qatari leader and Emir Tamim bin Hamad al Thani.
Above, a supermarket in Qatar.
Some supermarkets in Doha have almost run out of dairy products as scores of people waited in checkout lines and stocked up on beans and other staples.
The rift has provoked confusion and anxiety in Qatar, an energy, banking and construction hub, which is home to 2.7 million people -- most of them foreigners. Some Qataris were outraged by the state of affairs.
Authorities tried to calm nerves on Wednesday, releasing a video showing a shop with shelves brimming with food and reassuring Qataris - the wealthiest people in the world per capita - that their quality of life would not be hit.
But the row over Qatar's support for Islamist groups has disrupted many aspects of life.
Thousands of Qataris have been unable to board flights to the UAE, Saudi Arabia and Bahrain, and cut off from relatives in those countries, in a region where cross-border marriages are common and Gulf rulers refer to each other as "brothers".
In further signs of Qatar's isolation on Thursday, the United Arab Emirates' national postal group said it had suspended all services to Qatar and the UAE aviation authority said it had closed air space for traffic to and from Doha.
"My mother who is originally from the UAE cannot visit her sick mother, needless to say we will not be able to see my uncles," said Mohammed, a Qatar University professor, who gave his first name only.
He said a Saudi friend of his living in Qatar had sent his child to Riyadh for a family visit before the embargo and now he does not know what to do. Qatari students in the UAE and Saudi Arabia have been told to leave before finishing exams, he said.
"The issue is presented to the West as a diplomatic spat ... the reality is far worse," a Qatari diplomat said. "It is a blockade! Like that of Berlin. A declaration of war. A political, economic and social aggression."
Even if the dispute is settled, Qataris and other Gulf Arabs worry that the bitter spat which has seen both sides denounce each other as "enemies" and "traitors" of the Gulf has sown divisions and hostility that will linger on.
"I think it is three things we are scared of: family ties being severed, possible military action and losing the spirit of the Gulf Cooperation Council," said Mohammed, the professor, referring to the regional political and economic union set up in 1981.
Slogans against and in support of Qatar in Arabic have dominated Twitter, which is hugely popular in the region, and have grown steadily more nationalistic and aggressive in tone.
The fact that Qatar's leader, Sheikh Tamim bin Hamad al-Thani, has yet to speak publicly since ties were cut, has made some Qataris uneasy. Kuwait's ruler, who is mediating in the crisis, asked him to postpone a speech to the nation earlier this week to give dialogue efforts a chance.
"Of course we are all waiting for him to speak," said Sara al-Sulaiti, a Qatari who works in public relations.
"The emir is wise not to speak," said Faraj, a Qatari engineer working for a telecommunications company. "We know that he has a plan for us. Unlike in our neighboring countries we have deep faith in our leaders."
For low-income foreign laborers, the biggest concerns are possible food price rises and job cuts if projects are stalled because of construction materials being held up at the Saudi border.
Qatar is home to more than a million migrant laborers from countries including India, Nepal and Bangladesh, many of whom for around 1,000 riyals ($275) a month toil on construction projects including football stadiums and a metro system being built for the 2022 World Cup.
"I have never seen Qatari citizens stocking up on frozen chicken and long-life milks," said Anup Manoj, an Indian man who works as a cleaner in Doha's City Center Mall, where many shops no longer stock milk packaged by Saudi Arabia's Almarai Co, the most affordable kind of milk in Qatar.
"They have money to stock up. But when they stock up it's laborers and lower income workers who are going to suffer."
Apparently what Trump and the Saudis discussed is having a "huge" impact in the Persian Gulf States, Qatar in particular. Did Trump open the door and offer no objection to Saudi Arabia and its allies to act against Qatar? As the Qatar crisis escalates it could further de-stabilize the volatile Middle East.
Saudi Arabia and its allies continued to ratchet up the rhetoric against Qatar today with the

announcement of a new Qatar-specific terrorism list,

claiming that the new list proves Qatar isn't fighting against terrorism, as it has publicly promised, but is instead secretly supporting terrorism.
The list includes 59 people and 12 entities. The list includes at least two people who are accused of being terrorist financiers, and both of whom Qatar had already imposed sanctions against themselves. Among the rest of the people on the list, only a handful are actually from Qatar, with many of them people from Egypt, Libya, and Bahrain.
Though a lot of the details about what the people on the list are accused of are unclear, the list appears to be heavy on members of the Muslim Brotherhood, who are vilified in Egypt
for being part of the elected government the military junta ousted, and Bahraini Shi'ites, who the Bahrain royal family are mad at for demanding equal rights.
Tensions between Qatar and the rest of the GCC center heavily on Qatar's state media supporting calls for democratic reforms during the Arab Spring, something which didn't sit well with the Saudis or the other Gulf Arab states. This is a continuation of the effort to rebrand such support as tantamount to supporting terrorism.
Iran's Islamic Revolutionary Guard Corps are allegedly protecting the Qatari emir Sheikh Tamim Bin Hamad Al Thani inside his palace, Egyptian sources

said

on Wednesday. The sources added that the Revolutionary Guards arrived in Qatar under the cover of training.
Yesterday's

24-hour ultimatum

by Saudi Arabia requiring Qatar to make massive changes to their foreign policy and shut down their state media forever has come and gone, with Qatari officials insisting that there will be "no surrender" amid the ongoing dispute and

that they won't compromise their sovereignty

.
Saudi Arabia, Egypt, the United Arab Emirates, and Bahrain all severed ties with Qatar several days ago, with the split heavily centered around long-standing resentment of Qatar's state media backing democratic reform during the Arab Spring.
Qatar's Foreign Minister Sheikh Mohammed bin Abdulrahman al-Thani

today made clear that they are totally unwilling to change

their foreign policy position over the ongoing blockade by the Saudis and their allies, and that they are prepared to live under embargo forever, noting they have the backing of the rest of the international community.
The Saudi demands sought Qatar to agree to wholesale changes in their foreign policy as well as to make a public, irrevocable pledge to always take the foreign policy position consistent with the GCC, which is generally just the position of the Saudi kingdom.
Qatar's positions are generally not wildly different from some other GCC member nations, though they have the most in common Oman. The demands to sever all ties with Iran and expel everyone that the Saudis believe are "hostile" to the GCC would be a dangerous precedent to set, and Oman and Kuwait are both trying to help negotiated some sort of solution short of this total surrender.
And while President Trump made a point of praising the Saudi move against Qatar initially, he too is now offering to negotiate a deal.
There is still no indication of what the Saudis intend to do about Qatar ignoring the ultimatum, but some predicted yesterday that they would respond with a military invasion. It seems Saudi Arabia views itself now as the big bully in the region.
Rumors about a massive $1 billion ransom payment made by the Qatari government to recover a large number of hostages held in Iraq have been floating around for months. The sudden split between Qatar and a number of other regional powers has brought it back to the fore, however, with

Egypt calling for a UN inquiry into the allegation
.
It's never been publicly disclosed how much they paid as part of the negotiations, but speculation was that it was a significant amount, in the tens of millions of dollars by most estimates. Few people believe that the entire $1 billion ransom was paid.
Any ransom at all being paid is now an issue Egypt and other nations angry at Qatar are trying to use as a sign that they were "appeasing" terrorists and ended up funding them to the tune of a lot of money.
That said, payments of ransoms for high-value hostages have been common in Iraq and Syria during the war on terror, and Qatar is hardly alone in biting the bullet and getting people released. It's an issue that likely would not be an issue but for the unrelated tension ongoing.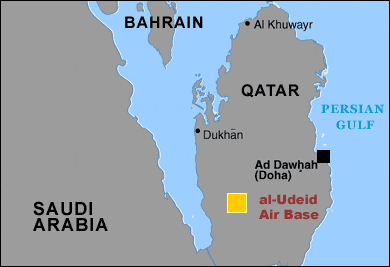 American analysts published an opinion piece in Newsweek magazine

raising fears of American presence so close to the Islamist Hamas group in Doha.