Friends,
I urge you to watch all the videos contained on this website below. It is an excellent report on the Muslims, Serbs (Orthodox Christians) and Croats (Roman Catholics) and the propaganda war against the Serbs during Clinton's war in Bosnia in the 1990s. Bosnia was the latest and greatest jihad for Muslims in the 1990s and Muslim fighters flocked there.
http://www.barenakedislam.com/2015/07/10/the-disaster-that-bill-clinton-created-in-bosnia-by-backing-muslims-against-the-serbs-has-now-become-next-front-for-the-islamic-state-isis-caliphate/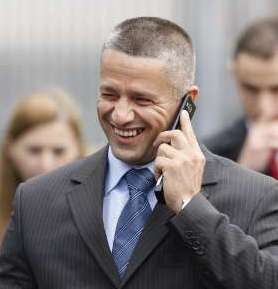 Above, pictures of Naser Oric jihadist leader in Bosnia and war criminal;
I think it is fair to say the Muslims and Roman Catholic Church waged war on the Serb Orthodox Christians and have throughout history.
I want to give a special thank you to my good friend, and fellow retired intelligence analyst, Art, who sent me this information.
When I was deployed to Guantanamo Bay, Cuba our fusion team watched carefully for Muslim detainees who were captured in Afghanistan or other fighting areas and who originated in Bosnia. From our research we knew Al Qaeda had a formidable presence in Bosnia and Albania. Al Qaeda financiers were also spending a lot of money in Bosnia, especially educating the young children in the Wahabist theology or doctrine.
Above, the Muslim magzine Novi Vox - "New Voice" states the Spremna Handzar Divizija - "Handzar Division is Ready" and the "4th Reich will come or is welcome" A Muslim fighter steps on a decapitated Serbian head. The date on the magazine is 1991.
As an aside the worst concentration camp of WWII was Jasenovac located in Croatia, Yugoslavia where the Fascist Croat Ustasha imprisoned and murdered Serbs, Jews, anti-fascist partisans and Gypsies.
It is estimated that 340,000 Serbs died in WWII and 52,000 at Jasenovac concentration camp.
http://www.veteranstoday.com/2013/01/20/jasenovac-the-cruelest-death-camp-of-all-times-26/