Reader comment:
Hopefully nothing bad will happen, but the world is on the verge of many major conflicts going hot, the War Drums have been Beating at an increasing rate. We are in the 'Age of Deceit', Bible warnings fit.
Rahm Emanuel: "You never want a

serious crisis

to go to

waste

"..........J
Reader comment: The Watchman is a former military intelligence officer and a good friend, He writes in detail about a Monday morning false flag drill in Manhattan and New Jersey; authorities estimated and are training for 242,000 deaths for the drill with triage at the Meadowlands stadium in New Jersey; evacuation of Trump tower is expected. I believe these death mongers are going to sit in their high towers if NYC and watch devastating events and call them terror or something else................G

Reader comment: a former White House intel officer and friend wrote to me cryptically, "this is Gridex III" without further explanation.

This drill and associated exercises seems to be lighting up the internet.


Of interest, much of what is occurring this week is actually because the period of 19th April - 1st May is a critical 13-day period within the belief system of the globalists. It is a 13-day Satanic ritual day relating to fire -- the fire god, Baal, or Molech/Nimrod, also known as the Roman god, Saturn (Satan).
Project Gotham Shield, in fact, is fully scheduled to run from April 18th until May 5th which
encompasses the entire 13-day Satanic festival.
This next news sounds like the Colonel and cabinet members in the movie JFK who was sent to Antarctica and other places the day before JFK's assassination. When the cat is away the mice play.
Secret agents from one of the most powerful spy agencies in the world may have just touched down in the capital of Wellington in New Zealand.
What looks to be just another private jet parked at Wellington Airport may in fact be carrying a plane-load of spies who are said to be in the country for a secret meeting in Queenstown.
The tail number – five small, black digits on the back of the plane – reveals the private jet belongs to none other than the United States' Central Intelligence Agency, also known as the CIA.
The aircraft's arrival ties in with an event in Queenstown, where a top-secret meeting of the Five Eyes nations is being held.
Five Eyes is the name of the global spying alliance of the US, the UK, Canada, Australia and New Zealand.
Officials from the world's largest spy network are meeting in Arrowtown, near Queenstown, where a massive security operation is underway.
Government officials are refusing to confirm details or provide names, but police confirmed no former head of state would be visiting, after the rumour mill tipped the visitor could be Barack Obama, with Microsoft founder Bill Gates' name also put into the mix.
FBI Director
James Comey
arrived in
New Zealand
on Sunday ahead of a conference, although officials were being cagey about the exact nature of his visit.
Comey disembarked from a Gulfstream jet after touching down at the Queenstown Airport.
A spokeswoman for
New Zealand Prime Minister Bill English
said New Zealand's government is hosting a conference this week with a number of senior officials from overseas, but that she couldn't comment further "due to specific security requirements."
A quick Google search of the registration number on the white, Gulfstream Aerospace's tail revealed United States Central Intelligence Agency (CIA) owns the jet.
The Gulfstream has joined a second private jet at the airport, acting as added confirmation that the "Government conference" set to play out at luxury Millbrook Resort in Arrowtown in the coming week, is a meeting of spying network Five Eyes - the global alliance of the US, the UK, Canada, Australia and New Zealand.
A fleet of undercover police cars and a security vehicle drove onto the tarmac ahead of the jet arriving.
CIA director Mike Pompeo
is among members from 15 agencies believed to be attending the conference and may well have been among those onboard the plane, which jetted in via Wellington.
Police and security have been scattered across the grounds of Millbrook Resort this weekend, keeping a close eye on the comings and goings.
Millbrook Resort manager Ross McLean
confirmed on Saturday that a "Government conference" was taking place at the venue but denied to provide any specific details.
"Millbrook is who we are because we do not disclose any information about any guests whether VIPs or just any couple," McLean said.
McLean said important visitors typically enjoyed the fact that the resort was quite a "relaxed area", unlike the "hustle and bustle of Queenstown".
The Herald believes the conference will take place for a week starting on Monday.
A number of police officers roamed the resort grounds on Saturday morning, while security stood at a temporarily blocked internal road that runs down the side of the reception area.
Marked and undercover police cars were spotted at various locations around the property.
A spokeswoman for the Department of Internal Affairs told the

Weekend Herald

that they were not involved in the visit, which was just as much of a mystery to them as the public.
The spokeswoman said if the highly secretive visit involved a head of state or ex-head of state, the department would typically be involved with organising vehicles and security with police.
Prime Minister Bill English's office this week confirmed there would be not one, but a number of VIP visitors.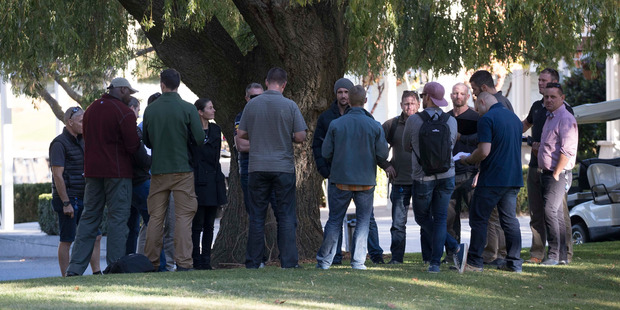 A group of about 18 police officers and security guards dresses in casual attire were spotted outside the reception area at Millbrook yesterday afternoon and locals reported seeing snipers and bodyguards in Arrowtown earlier in the week.
It is not known which government ministers are attending the Queenstown conference, however Minister for the Government Communications and Security Bureau (GCSB) and Security Intelligence Service (SIS) Chris Finlayson's is expected to make an appearance.
Hmmm, very interesting.....there will be simulated nuke detonations on the U.S. Canadian border in New York and in Manhattan effecting the nearby shores of New Jersey.
At 8:00PM April 20th
Stunning new details emerged regarding this "exercise" -- the "simulated" Nuclear Bomb detonation is scheduled in Weehawkin, NJ at 10:00 AM Monday. Based upon newsly uncovered FEMA documents (Labeled FOR OFFICIAL USE ONLY and "NOT FOR PUBLIC DISSEMINATION" the feds are projecting the deaths of 242,000 people In Hudson County, NJ, with
Weehawkin, Hoboken, Jersey City Heights, 2/3rds of North Bergen and the eastern portion of Secaucus being "Totally destroyed."
Friends, most of us know the history of drills and exercises for example, the drills prior to during the 9/11 2001 attacks, and the Sandy Hook and the Boston Marathon false flag attacks just to mention a couple.
https://www.youtube.com/watch?v=nVfnLlpApeQ
https://www.youtube.com/watch?v=bF75qZ-J0_E
https://www.youtube.com/watch?v=ot6qBhLS7_4
https://www.youtube.com/watch?v=GvVq88rRB04
https://mg.mail.yahoo.com/neo/launch?.rand=blj6fg1ijljqj
Read the very important link below from SuperStation95 in New York City.
"Operation Gotham Shield" a
MAJOR
exercise, involving the actual mobilization of numerous federal, state, county, and local resources over and above the military mentioned earlier: Law enforcement, Fire/Rescue/EMS, Hospitals, Doctors, Nurses, Regional Trade Associations such as the Health Care Association of New Jersey and the Eastern Regional Helicopter Council, to name just a few.
The "triage area" for this exercise will be

MetLife Stadium

in the Meadowlands of East Rutherford, NJ. That's where teams will assemble and where "victims" will be initially evac'd.
https://www.superstation95.com/index.php/world/3712
Below is weird audio from AM1630 in New Jersey that played over and over in Sep 2016 relating to Trump on April 26, 17. It reminds me of the code for D-Day "Jean has a long mustached" that was radioed to the French resistance that the invasion was on for the next day!
https://www.youtube.com/watch?v=BCJ_7Gz9Jys
Below, is a previous post (Is April 25th Black Tuesday?)
http://grassrootconservative.blogspot.com/2017/04/is-april-25th-black-tuesday.html