The Drudge Report, featured as its lead story a headline suggesting that Clinton campaign chairman John Podesta had been involved with occult activities linked to Satanism, complete with a

photo

of Hillary Clinton raging, arms outstretched, to the skies, above.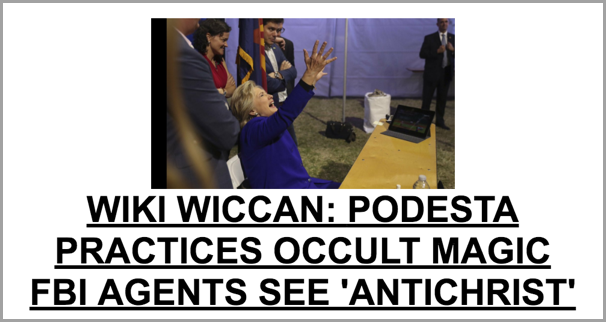 Fox News's Sean Hannity tweeted a story from his own website,

along with its headline

: "LEAKED EMAIL appears to link Clinton Campaign Chairman to bizarre occult ritual"
The hashtag #SpiritCooking was the No. 2 trend in the United States on Twitter at press time.
The evidence hinges on a WikiLeaks email hacked from Podesta's account, in which his brother, high-powered lobbyist Tony Podesta, asks if he was free to attend a "spirit cooking dinner" hosted by performance artist Marina Abramović.
"I am so looking forward to the Spirit Cooking dinner at my place. Do you think you will be able to let me know if your brother is joining? All my love, Marina," writes the artist, in June 2015. Tony forwards the email to his brother to ask—the entirety of the evidence to suggest that the Clinton campaign's senior operative is involved with the occult.
"Are we gonna have anything covered in the mainstream media about this? Is John Podesta gonna address this?"

InfoWars' Owen Shroyer asked

. "Is the 'artist' that is performing the occultist rituals gonna address this? Or are they just gonna ignore this and act like it never happened?"
The Clinton campaign declined to comment for this story.
On Friday, Drudge's top story was a link to InfoWars' story about "spirit cooking." The headline reads: "WIKI WICCAN: PODESTA PRACTICES OCCULT MAGIC."
Podesta's ties to Satanism might make sense if you already believed that Hillary Clinton was a committed member of a coven. A story citing a "Clinton insider"
Larry Nichols,
published at InfoWars

on Friday stated that "Hillary 'regularly' attended witch's church."
The ties to alleged occultism refer to Abramović's 1997 work,

available on YouTube

and named Spirit Cooking, where she paints a wall with blood to write sentences like "with a sharp knife cut deeply into the middle finger of your left hand eat the pain." The Podesta email suggests a repeat performance featuring Abramović.
Menstrual blood, semen and breast milk: Most bizarre Wikileaks revelation yet.
In what is undoubte dly the most bizarre Wikileaks revelation to date, Clinton campaign chairman John Podesta, pictured above with his wife, was invited to a "spirit cooking dinner" by

performance artist Marina Abramovic, to take part in an occult ritual founded by Satanist Aleister Crowley.
What is "spirit cooking"?
Spirit cooking refers to "a sacrament in the religion of Thelema which was founded by Aleister Crowley" and involves an occult performance during which menstrual blood, breast milk, urine and sperm are used to create a "painting".
According to Marina Abramovic, if the ritual is performed in an art gallery, it is merely art,

but if the ritual is performed privately, then it represents an intimate spiritual ceremony.
The video embedded above depicts the bizarre nature of the ceremony. Abramovic mixes together thickly congealed blood as the "recipe" for the "painting," which is comprised of the words, "With a sharp knife cut deeply into the middle finger of your left hand eat the pain."
The ceremony is, "meant to symbolize the union between the microcosm, Man, and the macrocosm, the Divine, which is a representation of one of the prime maxims in Hermeticism "As Above, So Below."
"Abramovic is known for her often-gory art that confronts pain and ritual. Her first performance involved repeatedly, stabbing herself in her hands. The next performance featured her throwing her nails, toenails, and hair into a flaming five-point star — which she eventually jumped inside of, causing her to lose consciousness," writes Cassandra Fairbanks.
Another image, below, shows Abramovic posing with a bloody goat's head – a representation of the occult symbol Baphomet.
https://www.youtube.com/watch?v=epzOg5cS3N0
Spirit cooking is also an "occult practice used during sex cult rituals, as explained in the book "Spirit cooking with essential aphrodisiac recipes," notes Mike Cernovich.
The revelation that

John Podesta

, Hillary Clinton's campaign chairman, is presumably interested in weird, gory occult ceremonies was too juicy for even Wikileaks to ignore.
"The Podestas' "Spirit Cooking" dinner? It's not what you think. It's blood, sperm and breastmilk. But mostly blood," the organization tweeted.
"You've got to be pretty secure to have an eight-foot-tall naked man in your living room in Washington, D.C.," Heather says of her husband's choice.
What Heather suggests as a badge of her mate's confidence is a highly intentional statement. After all, Tony's job is to make an impression. Besides, when the piece isn't generating blushes, it's generating conversation.
"At political events, there's an inevitable awkwardness," former Clinton administration official Sally Katzen said at a Women's Campaign Fund dinner at the Podestas' home this summer. "The art is an ice-breaker. It puts people at ease."
Not always. Folks attending a house tour in the Lake Barcroft neighborhood in Falls Church earlier this year got an eyeful when they walked into a bedroom at the Podesta residence hung with multiple color pictures by Katy Grannan, a photographer known for documentary-style pictures of naked teenagers in their parents' suburban homes.
"They were horrified," Heather recalls, a grin spreading across her face.
If Tony and Heather enjoy in-your-face art, they also reward their artists. The Podestas are eager to assist those they've earmarked as promising, and donate time and resources to the cause.
During last year's Venice Biennale, they threw parties night after night, renting out their favorite restaurant and packing it with artists and a gallerist or two. Here in Washington, they've hosted art parties with Patricia Puccini, Cathy de Monchaux, Anna Gaskell, Frank Thiel, Annee Olofsson, Nikki Lee and others. Curators from the Hirshhorn Museum and Corcoran Gallery of Art, top Washington collectors and the city's best dealers regularly show up. Podesta parties are where connections are made.
"I see lobbying as getting information in the hands of people who are making decisions so they can make more informed decisions," Tony says. "We do that a lot with museums."
The couple also donates. About 300 pieces that have passed through Tony's hands are now in museum collections. Locally, the Corcoran Gallery of Art and the National Museum of Women in the Arts have benefited most.
"Tony loves the artists themselves as much as the artworks," John Podesta says. Earlier this month, the couple held a party and opening at their Falls Church home in honor of 34-year-old District artist Avish Khebrehzadeh.
Tony and Heather liked her work when they saw it at last year's Venice Biennale, where the artist received one the event's prestigious awards, so her Washington dealer set up a visit. That day with Tony in the studio, Khebrehzadeh mentioned wanting to work on a large scale but not having adequate studio space. So Tony offered her the keys to his Falls Church home, with its ample basement. Last winter, Khebrehzadeh spent weekdays at the house working.
Now it's time to show those works and her dealer's walls aren't big enough, either. So Khebrehzadeh's exhibition opened earlier this month at the Podestas' house, in the very space where the art was made. Visitors may make appointments to see the show.
Other artists have similar stories. For Belgrade-based up-and-comer Vesna Pavlovic, Heather helped secure a show at Sacramento's Crocker Art Museum (Heather once worked for the congressman who represents the area). For art stars Jane and Louise Wilson, the couple pulled some Washington strings to ensure the duo had access to Las Vegas casinos for a video shoot.
"It's inspiring to meet a collector so involved in his own career and, parallel to that, in the arts as well," says video artist and painter Sarah Morris, speaking from Berlin, where she opened a show last week. "He's very committed."
Morris approached Tony in 2000 with her idea for the film "Capital." The piece ended up as an 18-minute look into Washington's corridors of power, much of it thanks to strategy sessions with Tony at which Morris would identify the places she wanted to shoot and Tony would tell her how likely she'd be to get in.
"Tony speaks in percentiles," Morris explains. "I'd say 'Cabinet Room,' and he'd be, like, '30 percent.' I'd say 'Pentagon,' and he'd say '60 percent.' "
Co-conspiratorial leanings aside, Tony likes to see his artists' results and will travel to openings to support them. "Sometimes our life feels like an art travelogue," Tony says of the constant back-and-forth.
"He travels more than any artist I know. And artists travel a lot," Morris says. "Tony would show up and surprise you."
But these days, Tony's focus is the battleground state of Pennsylvania and getting his candidate elected.
South Korea's Gwangju Biennial, which opened earlier this month, is the kind of show that normally would prompt Tony to get on a plane. "If it weren't for Kerry, I'd be going," Tony says with a hint of regret. It's one of the few times that art has had to slide