Proponents of wind turbine energy tout its environmental advantages over fossil fuel energy sources that produce carbon dioxide emissions.
But what they don't talk about is the vast amount of radioactive waste and other toxic substances resulting from the mining of the rare earth minerals needed by wind turbines, according to a disturbing report from two energy experts.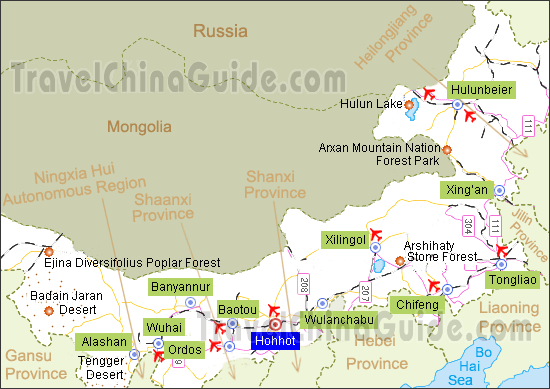 Baotou, China is near Hohhot
Wind turbines use magnets made with neodymium and dysprosium, rare earth minerals

mined almost exclusively in China,

reported Travis Fisher and Alex Fitzsimmons, policy associates with the Institute for Energy Research.
An MIT study estimated that a 2-megawatt wind turbine contains about 752 pounds of rare earth minerals.
Baotou, China
Simon Parry of Britain's Daily Mail traveled to Baotou in northern China to view the mines, factories, and dumping grounds associated with China's rare earth industry, including a 5-mile-wide lake of industrial waste.
Dumping rare earth by products in Baotou, China
"This vast, hissing cauldron of chemicals is the dumping ground for 7 million tons a year of mined rare earth after it has been doused in acid and chemicals and processed through red-hot furnaces to extract its components," Parry wrote.
"Rusting pipelines meander for miles from factories processing rare earths in Baotou out to the man-made lake where, mixed with water, the foul-smelling radioactive waste from this industrial process is pumped day after day."
As the lake of waste grew larger, local farmers told Parry, "anything we planted just withered, then our animals started to sicken and die."
Residents of a nearby village said their teeth began to fall out, their hair turned white at young ages, and they suffered from severe skin and respiratory diseases. Children were born with soft bones and the incidence of cancer and osteoporosis soared, the Mail reported.
The lake's radiation levels are 10 times higher than in the surrounding countryside, official studies found.
In Baotou, most people wear face masks wherever they go, Parry noted.
Last year the United States added 13,131 megawatts of wind-generating capacity, and at least 4.9 million pounds of rare earths were used in the turbines installed in 2012. That means at least 4.9 million pounds of radioactive waste were created to make those turbines.
In comparison, the U.S. nuclear industry produces between 4.4 and 5 million pounds of spent nuclear fuel each year. So the U.S. wind industry most likely created more radioactive waste last year than America's entire nuclear industry — while accounting for just 3.5 percent of all electricity generated in the country.
And the MIT study revealed that the demand for dysprosium could rise by 2,600 percent in the next 25 years as the wind industry grows, the Rightside News authors warn.
They conclude: "All forms of energy production have some environmental impact. However, it is disingenuous for wind lobbyists to hide the impacts of their industry while highlighting the impacts of others.
"From illegal bird kills to radioactive waste, wind energy poses serious environmental risks that the wind lobby would prefer you never know about."

Changing gears, wood-burning stoves offer warmth and enhance off-grid living options during cold weather months, but the tried-and-true heating devices now are under attack by the Environmental Protection Agency. The EPA has banned the production and sale of the types of stoves used by about 80 percent of those with such stoves. The regulations limit the amount of "airborne fine-particle matter" to 12 micrograms per cubic meter of air. The current EPA regulations allow for 15 micrograms in the same amount of air space.
Most of the wood stoves currently nestled inside cabins and homes from coast-to-coast don't meet the new environmental standard. The EPA launched a "Burn Wise" website to help convince the public that the new regulations were needed. Trading in an old stove for a newer stove isn't allowed. "Replacing an older stove with a cleaner-burning stove will not improve air quality if the older stove is reused somewhere else," the website says. "For this reason, wood stove change out programs usually require older stoves to be destroyed and recycled as scrap metal, or rendered inoperable."