Bitcoin stole the headlines in the first week of 2017, rising nearly $200 in the first two days of the year before swiftly giving back those gains and more since.

Quietly, however, gold and silver have gotten off to an excellent start to the year.

Gold began 2017 at $1,154 and has rarely looked back, rising to over $1,200 on Thursday.


Silver has been similar. It started the year at $15.93 and has gone nowhere but up since and came close to hitting $17 on Thursday.



And all of this comes after gold rose against all fiat currencies in 2016, rising 9% against the US dollar, 13% against the euro and 31.5% against the British pound.

And continued its massive bull run since 2002 with only two down years in the last 15.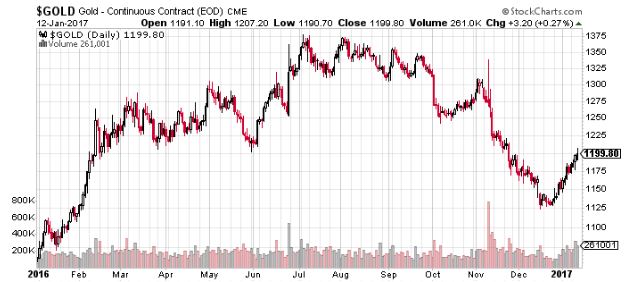 What is interesting about gold and silver's rise so far in 2017 is how it correlates to their rise in 2016.

From the very first day of 2016 gold and silver rocketed higher.


And gold didn't stop rising until it hit nearly $1,400 in July.

But then, for the second half of the year it was almost all downhill.

Gold stocks followed the same pattern.


Gold stocks nearly tripled, as a whole, from January until August of last year and then fell until the end of the year again.

This is what makes the rise of silver and gold so sharply at the beginning of this year so interesting. If they go on to repeat a similar performance in 2017 it will mean massive gains in the gold stocks.

It is even possible that the downturn gold experienced in the last half of the year may not occur this time. It is certainly possible that gold could remain relatively stationary or even continue to rise. There are certainly reasons why gold could continue to rise, especially if the dollar erodes.