"For there is nothing hid, which shall not be manifested; neither was any thing kept secret, but that it should come abroad."

Mark 4:22
Your Watchman reported these photos some time ago but I did not realize Baghdadi was in the photos and had discussions with McCain until now!
Just the other day,

US Senator John McCain said that

"One of the key decisions the President is going to have to make is air power in Syria. We cannot give ISIS a base of operations." McCain has been very outspoken against ISIS and that the president step up efforts to eradicate them. But this was

not

the case just one year ago.
On the same day that the above photo was taken, hours earlier the photo below was taken as well. John McCain is seen talking intently with Ibrahim al-Badri, otherwise known as Abu Bakr al-Baghdadi, the

leader and commander of the Islamic State

in Iraq, otherwise known as ISIS.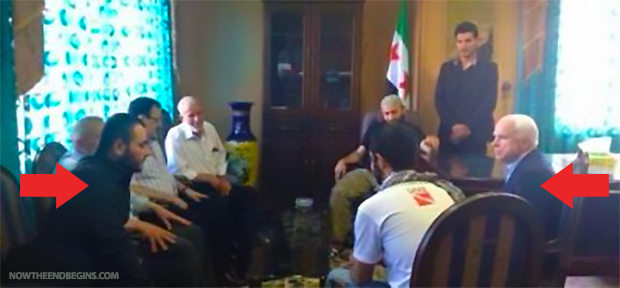 ISIS leader Abu Bakr al-Baghdadi, wearing the black shirt on the far left, is seen in deep discussions with John McCain.

Within 12 short months of these photos being taken, al-Baghdadi would

explode on the scene in 2014 as the leader of monstrous terror group ISIS. John McCain does

not

deny the existence of these photos, obviously, as he posted one to his own Twitter account.

Click image to view this photo on his own Twitter page.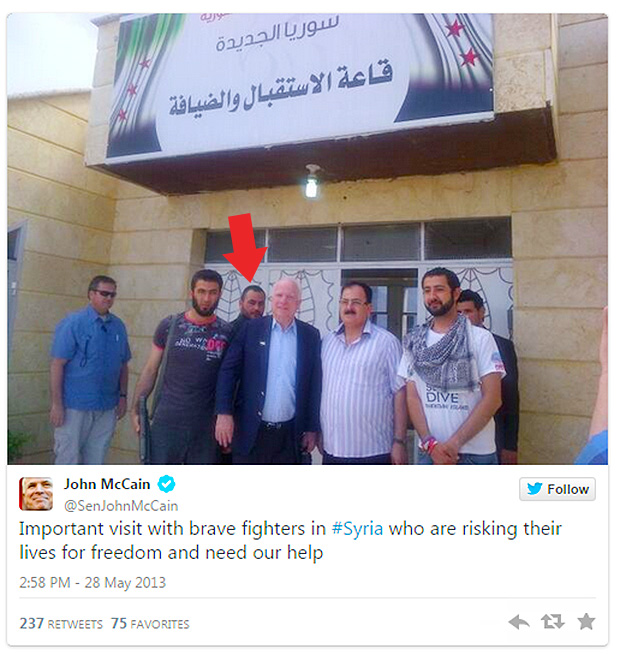 What happened to al-Baghdadi?