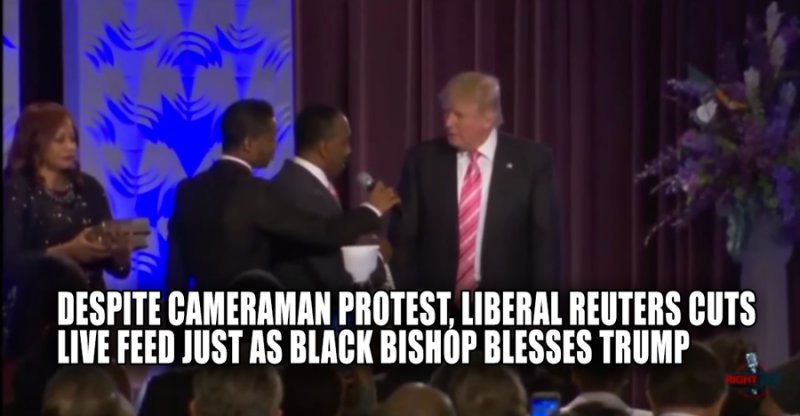 After Trump's address, Bishop Jackson presented him with a "Jewish Heritage Study Bible" (also, one for Melania), a prayer shawl, and a pin.

Wrapping Trump in the shawl, Jackson said, "This is a prayer shawl straight from Israel.

Whenever you're flying from coast to coast -- I know you just came back from Mexico and you'll be flying from city to city -- there is an anointing.

An anointing is the power of God," Jackson said.

"It's going to be sometimes in your life that you're going to feel forsaken, you're going to feel down, but the anointing is going to lift you up.

I prayed over this personally and I fasted over it, and I wanted to just put this on you".

(At this point I'm shouting, "Hallelujah!!!")
Trump put the pin on his suit and said, "I feel better already."

Jackson continued, "Because, when things go down, you can study the word of God.

When things seem like it's almost impossible, you will read Mark 9:23 - 'If thou can believe

(cheering from the congregation)
, all things are possible. ' "
And right then, the
feed to every network carrying the event (Fox News, CNN, MSNBC, etc.) all cut to Black as I was watching LIVE.

Reuters was the primary video feed for the event, all other video delivery services were coming from the Reuters feed. When Reuters shut down, all other outlets lost the broadcast.
It was blamed on lost satellite feed; however, I found out later, that it was actually Reuters cutting off the feed – how awful; it was such a poignant moment!

Right at the point where Bishop Jackson was telling Trump, and America, that nothing, not even defeating Hillary Clinton, is impossible, the feed went Black.

I would love to be able to see the rest of this presentation.
To watch only the presentation of Prayer Shawl, etc. move cursor to 11:50.
+++


The operators of the Reuters news feed began speaking uncomfortably about the power of the positive optics for the Trump campaign.

It appears the camera operator was initially reluctant to cut the feed saying:

"I'm shooting this, I don't care what they say. . .

I'll take a demotion for this. . .

you?"

Moments later you can hear the intensity of the voice off camera increasing: "Shut it down"
followed by a voice asking, "Shut this down?" and the response, "Yeah"… "Blackout". Seconds later in the middle of Bishop Jackson's remarks the feed is cut
.
Photo of Donald Trump in Prayer Shawl with caption by Josh Rubin (click on attachment if not visible):